NJ's and PA's Land Surveyor
Having performed over 25,000 land surveys for home owners, Teunisen Surveying & Planning is the premier land surveying company in New Jersey and Pennsylvania. If you need a need a land, property or topographical survey, call the experienced company people have been relying on for over 40 years at 908-233-3550.
Why hiring a quality property surveyor is so important?
Thriving as a surveying company for over 40 years is a testament to Teunisen's dedication to quality surveying. There are many steps required to create quality and accurate property surveys. For almost half a century, Teunisen has been fine tuning its boundary surveying techniques and processing, ensuring every survey is accurate and delivered on-time.
Property Surveys
Boundary Survey
A boundary survey re-establishes the property lines using a process in which the land surveyor establishes the corners of a property. Boundary surveys are typically done prior to the transfer of title, ensuring the purchaser is getting the land specified in the title. Over the past 40 years, Teunisen has performed thousands of individual house surveys for home buyers in New Jersey and Pennsylvania.
The Teunisen Quality Difference
Over the past four decades, we have constantly improved our quality processes to ensure that we provide a quality, accurate boundary survey every time. Below are our quality steps:
Research the recorded deeds and maps at the County Hall of Records for the property in question and all adjoining properties. The research usually goes back to when the parcel was created.
Conduct a field search of the original corners of the property.
Perform a field survey to locate all visible improvements and also to find the existing property corners.
Collect all property data, plotting of deeds and calculations and analyzing the data to determine the location of the property lines.
Return to the site to search for any original corners not previously found.
Draft a land survey map and set the missing corners, based on the evidence found.
Prepare a Title Report, if needed.
Teunisen Topographical Boundary Example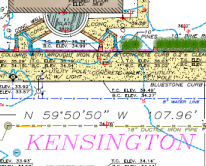 View Boundary Survey
Topographical Survey
Topographical surveys, sometimes called contour surveys, can map the contours of the land in question as well as features like trees, utility poles, and manholes. Our topographic surveys, in most instances, are based on 1988 NAVD. The NAVD (North American Vertical Datum) of 1988 is the vertical control datum of orthometric height established for vertical control surveying in the United States of America). If necessary, the 1988 Datum may be converted to NGVD1929 Datum. For sites under ten acres, conventional surveying is used. However, for sites over ten acres, it is economically beneficial to have the site flown and have a topographic survey mapped. When a site is flown, (overlapping pictures of the site), the surveyor sets targets at points specified by the photogrammetrist. The surveyor obtains horizontal and vertical data on each target. This information is provided to the photogrammetric firm. Their contour map will be on the same datum as the boundary survey. Therefore, the topographical map will overlay precisely over the boundary survey. Any areas that are not visible are surveyed using conventional methods.
Experience Matters
Over the past 40 years, Teunisen has performed over 25,000 topographic surveys with many different applications. From Hess Oil and Stavola Construction Materials to Bound Brook Quarry (Bridgewater) and Owens-Corning in Kearny, engineers, contractors and architects have been employing Teunisen's topographical survey service to plan and design buildings and future building and land improvements. In some cases, Teunsien has performed topographic surveys required by the US government. Envisioning the natural landscape via a topographic survey conducted by a land survey company aides builders in gathering the details (i.e. elevation of slopes) necessary to build on the identified land.
Teunisen Quality & Modern Technology
Teunisen Surveying & Planning provides the horizontal and vertical ground control. Our topographical surveys have one foot contours in most cases. These surveys also depict spot elevations and the top and bottom of curb elevations. Teunisen uses Advanced GPS technology to document this type of a topographic survey, and the results of the survey are presented as contour lines on a map. This is what differentiates our topographic surveys from other types of property surveys, which simply mark the land physically (i.e. using stakes).
Contact the Professional Land Surveyors
Whether you need a topographical or boundary survey, give the experienced, responsive, professional property surveyors at Teunisen Surveying a call at 908-233-3550 or email us and put our 40 years of experience to work on your survey.