As-Built Drawings, Models and Surveys
For almost half a century, companies have turned to Teunisen for as-built surveys. Whether its clients who own or lease buildings that have undergone undocumented renovations and improvements who need a Certificate of Occupancy (CO) or companies that need a current "as is" map of dimensions, layout, and infrastructure of existing structures (ie. building, bridge) or contractors who need to verify and document on-going construction to ensure that completed work meets design, local compliance and lender specifications, Teunisen has been their TRUSTED service provider.
Types of As-built Drawing, 3D Models and Maps
From the mapping of historical buildings and bridges to the detailed documentation of footage for retail and office building floor plans to lease separation, Teunisen has the experience, resources and technology to provide accurate as-built documentation, 3D models, elevation drawings and plan drawings, on-time and on budget.
Teunisen Experience + Modern Technology on Every Project
With over 40 years' experience creating as-built maps, we have surveyed almost every type of building and structure imaginable. Plus, combining our time tested and conventional techniques with the latest technologies, such as 3D laser scanning, GPS receivers, RTK (Real Time Kinematic) GPS, Total Station Theodolites, Gyrotheodolites and Retroflectors, we are dedicated to delivering the highest quality drawings and 3 dimensional models. Below are just several of the areas where we have expertise:
Building Floor Plans including Commercial (Office Buildings) and Retail (Supermarkets)
Historical Buildings, Bridges and Churches (using 3D Laser Scanning)
Stained Glass Windows (using 3D Laser Scanning)
Refinery Retrofitting Maps
Identifying Piping in Confined Areas (Oil and Gas Refineries, Pharmaceutical Factories)
Teunisen As-Built Floor Plan Example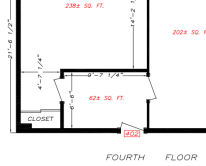 View Office Floor Plan
Princeton Office Building
Our Work is Everywhere
At Teunisen, we have provided our as-built surveying service throughout the entire US, including New Jersey, New York and Pennsylvania. In fact, if you have traveled in the US, you have most likely seen our work first hand. Here are just a few examples of the types of projects we have completed.
The Paulsboro Refinery
The Bayonne Piers
The Recreation Pier in Weehawken
Dike and Sheeting in Sea Bright
Floor Elevations in Secaucus
Office Buildings in Princeton
Why Teunisen?
History of Success
Over the past 40 plus years, Teunisen has had a long history of success in providing expertise in as-built drawings to small and large companies throughout the Unites States. Even more, we have built a reputation for delivering high quality drawings to almost every industry from architectural firms to federal, state, and local entities to homeowners, to retailers, to churches, banks, hospital and medical facilities. Our satisfied client list includes Exxon/Mobil, Kinder-Morgan, Simpson & Brown, Master Cutlery and the Twenty Nassau Street Professional Building and is a testament to our dedication to quality as-built surveying.
Contact the Professional As-Built Surveyors
If you need as-built drawings for floor plans, commercial and office buildings, lease separation agreements, Certificate of Occupancy (CO), local compliance, historical records, or for monitoring a new construction project, give the experienced, responsive, professional as-built surveyors at Teunisen Surveying a call at 908-233-3550 or email us and put our 40 years of experience to work on your project.